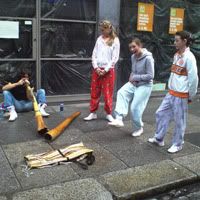 Nightwear Special.
It looks like the pyjama/ugg boot trend is set to continue this season. With Dublin's hot young trend setters still venturing out at all hours of the day in this high end look. What started in the city centre in areas like the Pearse St & Charlemount flat complexes' has now spread to the 'burbs' with our trend-spotters reporting sightings as far out as Dun Laoghaire and
Bray Sur Mer.
No longer just seen as just 'headin down spar for 10 blue' attire, it's now everyday casual wear suitable for any Saturday afternoon on Henry St.
Accessorise with buggie and Mp3 phone equipped with the latest
R/n B and hard dance releases for impromptu bus 'raves'.